Brief Introduction
It was solely developed by Creative Biosciences to automatically prepare the fecal sample for the next step testing. It adopts motor and microcomputer control technology to disperse the stool sample evenly by automatic oscillation. The major components include a robotic arm, a mobile platform, a sample transfer wheel, an oscillator, a weighing module, and a solution filling module.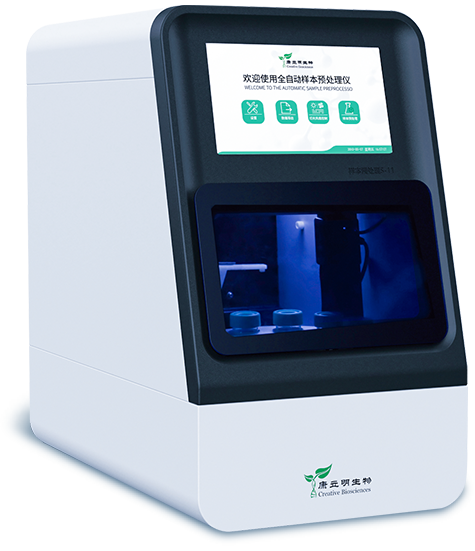 Product Performance

Fully automatic, real-time
display & record, data
traceable
Fully enclosed, UV
disinfection, anti-pollution
Touch screen, userfriendly, easy operation
Weighing calibration,
accurate filling volume
3-Step Simple Operation Procedure

Advantages of Automatic Sample Preprocessing Instrument
Fully automatic, hands-on free

Reduced contact time for better staff experience

Uniform strength in opening cap for filling, preventing leakage

Real time weighing, precision filling
Perfect Combination for Better Experience

Automatic Sample Preprocessing Instrument reduces contact time with fecal sample to make better experience for lab staff.
The stool sample collection device is disposable and easy to handle to offer better experience for users.
The Methylation Detection Kit for Human SDC2 Gene (Real time PCR) and Stool Collection Device is accurate, noninvasive, and convenient. It is highly recognized by experts and recommended in the CRC screening guidelines.
Specifications
● Model:P12
● Number of samples processed:12 samples
● Maximum input power:250W
● Peristaltic pump liquid volume:1-24mL
● Size(W×D×H):560×340×600mm
● Run mode:Anytime
● Data interface:USB2.0
● Built-in storage:32Mb (Stored info of 2000 samples)
● Weight:30 Kg
● Operation interface:10.1 inch touch screen
● Single tube oscillation time:120S (can be set accordingly)