A Letter from the Inventor of Non-invasive Testing for Colorectal Cancer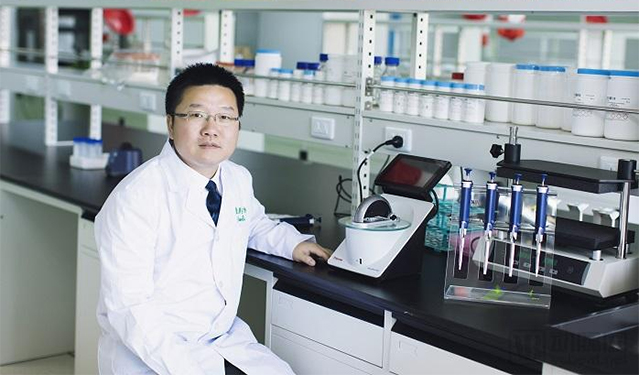 Dear Friends:
I am Hongzhi Zou, the primary inventor of non-invasive testing technology for colorectal cancer. In the past 20 years, I've been doing research and clinical work on testing for colorectal cancer. The more depth I've worked into this field, the more thankful I am to find the reliable testing method to help more people and families. According to many statistics, colorectal cancer isn't a terrifying disease. It's preventable and treatable by detecting it at early stages. Detecting precancerous adenoma (≥1cm) will prevent its progression to become cancerous.
My doctoral adviser is professor Baoming Yu who is a well-known specialist in colorectal cancer from Shanghai Ruijin Hospital. After graduation in 2002, I went to Mayo Clinic and Exact Sciences (a NASDAQ-listed company) to work on colorectal cancer testing in the department of research and development for more than 10 years during which I led a project on developing stool testing kit for colorectal cancer. The testing kit was approved by FDA in August 2014 and obtained the National Health Insurance reimbursement license. This product can detect 92% of colorectal cancer and 42% of precancerous adenoma(≥1cm) with the specificity of 87%. This novel technology has been considered a key screening method for colorectal cancer in America.
In China, we initiated the research group of stool DNA testing for colorectal cancer in 2013. Over 5 years, we collected more than 3000 stool specimen which had comparison with colonoscopy at the Sixth Hospital Affiliated to Sun Yat-sen University. After repeated testing and analysis of scientific statistics, we found the gene markers and developed COLOSAFE which is the DNA testing kit for early detection of colorectal cancer with our own independent intellectual property. According to multi-site clinical statistics, the kit can detect 84.22% (86.71% of sensitivity for stage I-II) of the colorectal cancer with the specificity of 97.85%. It is the first approved and licensed stool DNA testing kit for colorectal cancer in China.
With all the research background in colorectal cancer and rigorous experiences in developing the product, I'm full of confidence to recommend to you the COLOSAFE—a reliable testing kit for early colorectal cancer. The human organs are like parts of an automobile. If you inspect them regularly, you will feel safe to drive smoothly. May you, my friends, peace, health and happiness!