Methylation Detection Kit For Human SDC2 Gene (Real time PCR) & Stool Collection Device
Brief introduction of COLOSAFE
Stool DNA testing has natural advantages in detecting colorectal cancer. In a normal adult, epithelial cells exfoliate into gut lumen and excrete with stool every day. Colorectal cancer cells fall off more easily than normal ones due to increased proliferation of malignant cells and decreased adhesiveness between the cells and the basement membrane. Therefore, there are exfoliated tumor cells or their fragments in a patient's stool, carrying the carcinogenic messages of the colorectal cancer. These messages can be recovered and deciphered by special testing methods. COLOSAFE is such a testing tool to precisely detect and interpret the mutated messages (human SDC2 methylation) from stool for detection of colorectal cancer. It helps physicians to detect colorectal cancer at its early stages when the malignancy can be effectively treated and stopped altogether. COLOSAFE was approved and licensed by National Medical Products Administration (NMPA) on November 20th, 2018. It has become the first licensed stool DNA testing kit for colorectal cancer in China. It's also ISO13485:2016-certified. CE mark was obtained in the middle of February of 2020. According to the clinical statistics, COLOSAFE has achieved a sensitivity of 84.22% (315/374) overall and a specificity of 97.85%. More importantly, the test has higher sensitivity of 86.71% (137/158) for early stage colorectal cancer (stage I and II) patients, who have much higher 5-year survival rate. COLOSAFE has its own independent intellectual property rights. It's completely and independently developed and produced at Creative Biosciences (Guangzhou) Co., Ltd by its R&D team led by Professor Hongzhi Zou, who was also one of the primary inventors of Cologuard adopted nationally as a screening method for colorectal cancer in USA. The second-generation COLOSAFE, which has even higher detection rate, is being developed and expected to come to the market soon!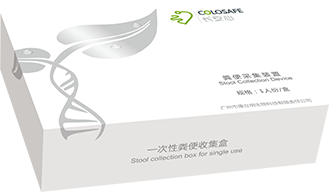 Watch 3D Video

en.creativebio.cn

400-966-0210

Stool Sample Collection

en.creativebio.cn

400-966-0210
Benefits of COLOSAFE
Non-invasive (only one stool sample of 4.5g is needed)

No bowl preparation; in-home sample collection

Complete colorectal screening without blind spot

High testing reliability and stability

High sensitivity and specificity
Intended population
Those who are average-risk individuals age 45-74.
Those who have alarming gastroenterological symptoms such as diarrhea, abdominal pain, bloating, fecal occult blood, constipation and emaciation.
Those who have family history of colorectal cancer or have unhealthy eating habits or lifestyles.
Those who have no intension or have high risk (due to various reasons) in undergoing colonoscopy procedure.
Those who had colorectal cancer and need follow-ups after tumor removal surgeries.
Those who have benign diseases of rectum and anus, such as hemorrhoid, anus fistula, perianal tumor, anal fissure.
Who have no intension or have high risk (due to various reasons) in undergoing colonoscopy procedure.
Those who need follow-ups after surgeries of colorectal tumor resection.

Recommendations from the authorities
1. 2016 Colorectal CancerScreeningGuideline by USPSTF(United States Preventive Service Task Force) recommends one fecal DNA testing every 1-3 years.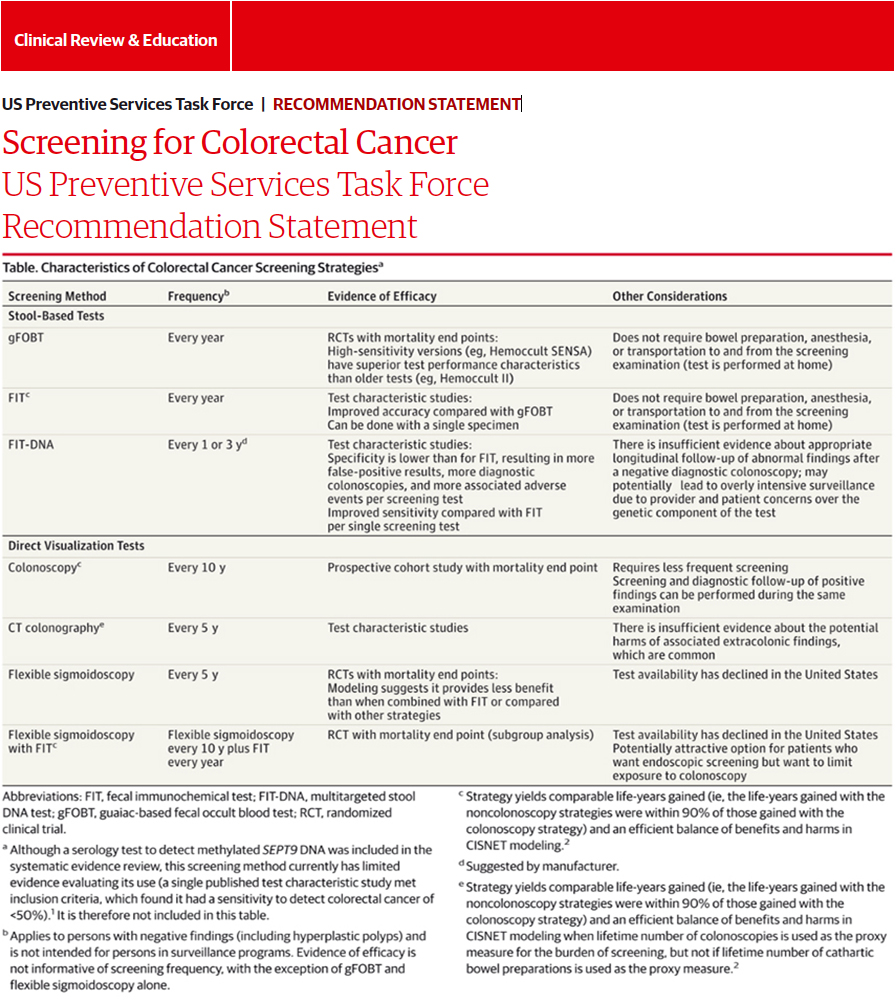 2. 2017 Colorectal Cancer ScreeningList by USMSTF(United States Multi-Society Task Force) recommends one fecal DNA testing every 3 years.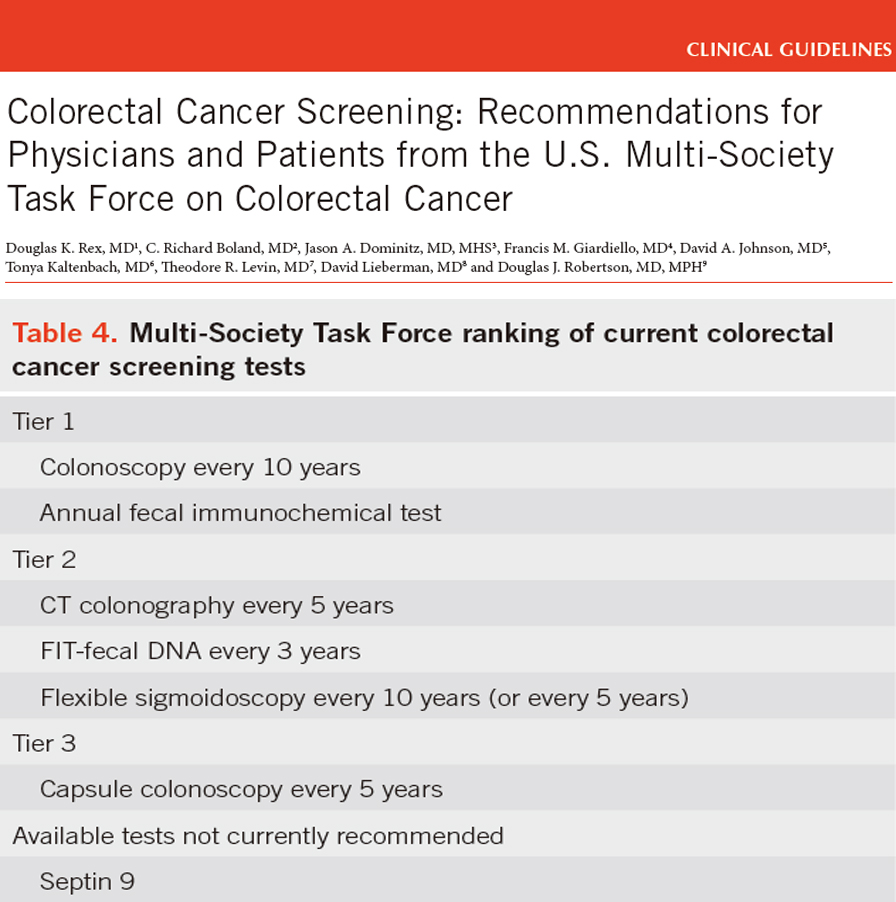 3. 2019Colorectal Cancer Screening Guideline by USNCCN (United States National Comprehensive Cancer Network) has included the fecal DNA test in clinical practice.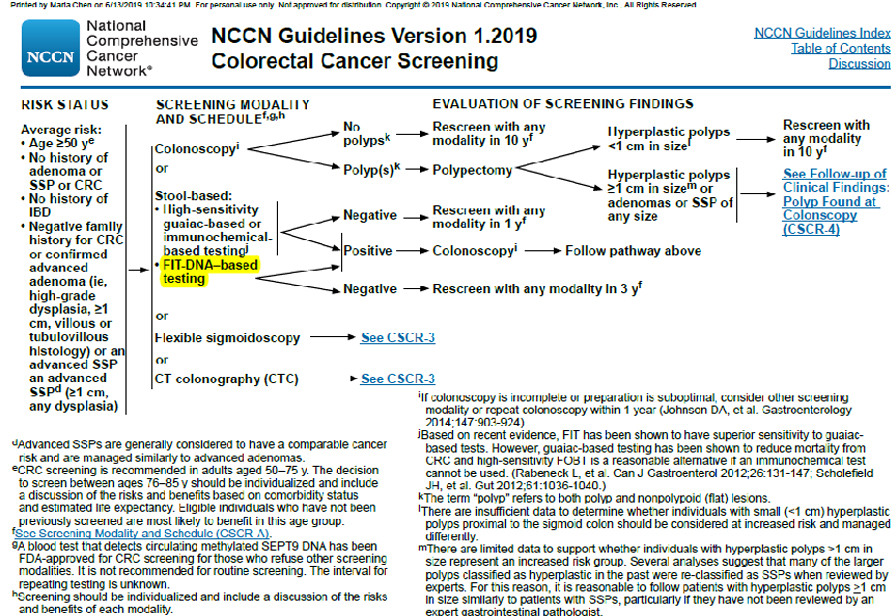 Q&A
Is there food restriction before the sample collection?Is there any medication affecting the test result?

What are the key facts I need to know during the sample collection?

a) Please read the instruction carefully before the sample collection or watch the video carefully about the sample collecting.


b) Please don't empty the preservative solution in the collection tube.

c) Please collect only shaped stool. No watery stool is allowed.The liquid stool sample in the collection tube should be around 20ml which is the ideal volume. Any amount over or less than 20ml is not accepted.

d) Please tighten the cap on the collection tube after sample was put in.


What's the difference between your method of testing and the fecal occult blood test (FOBT)?

FOBT is to detect the amount of hemoglobin in stool sample to figure out if there is carcinogenesis. Even though it's safe and non-invasive, it's high in false negative and false positive. FOBT has only 30-60% detecting rate because some colorectal cancer especially at early stage or at precancerous stage has no symptom of bleeding. It's hard to detect the precancerous change with FOBT unless other testing methods are implemented. Bleeding from esophagus or from hemorrhoids canalso make FOBT positive, which increases patient's anxiety level. In our testing of stool, we detect the mutated generelated to tumor. The markers we use are found through many repeated tests of considerable samples and can specifically detect colorectal cancer even precancer.

Do I receive the test result report and how long will it take to getit?

Yes, you will receive a test result report. Normally the test resultcomes out within 7 days of the receipt of the sample. Once the result is ready, we will call you or send you an electronic report in the first place.

How long can I keep the stool sample after collection? Where do I ship the sample package?

After the collection, the liquid preservativecan keep stool DNA from degradation for 3 daysin room temperature. For best test result we strongly recommend you mail out the sample package on the day of the collection due to any delayduring the transportation. Please ship the package to the stated testing lab on the collection box and strictly follow the shippinginstruction.

How is the testing accuracy of COLOSAFE?

At present COLOSAFE hasspecificity of 97.85%withdetecting rate of 84.22% forcolorectal cancerand 86.71% for stage I & II.
How To Buy
Please contact your local distributors for ordering COLOSAFE.
If you want to become our international partner or distributor, please contact:
Linda------cell: 86-17855383268 or lindahongliu@creativebio.cn